Archive for the 'Latest News' Category
Thursday, April 5th, 2012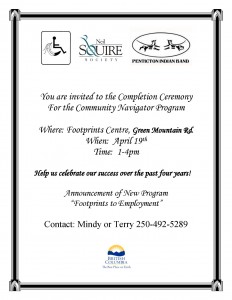 Where: Footprints Centre, Lot 49, Green Mountain Road, RR#2, Site 50, Comp. 25, Penticton, British Columbia
When: April 19th
Time: 1:00pm – 4:00pm
Help us celebrate our success over the past four years!
Announcement of New Program "Footprints to Employment"
Please contact: Mindy or Terry 250-492-5289
Friday, March 30th, 2012
The Neil Squire Society (new window) is honoured to be mentioned in the Government of Canada's (new window) Budget 2012 (new window). In the budget document, the government (new window) quotes "From April 1, 2008 to March 31, 2011, the Neil Squire Society provided employment services to 571 people with disabilities in British Columbia (new window), Saskatchewan (new window), Ontario (new window) and New Brunswick (new window) under a $3.5-million Opportunities Fund project. At the end of the project, 201 participants were employed and 77 had returned to school".
The full budget can be viewed at Government of Canada's Budget 2012 (new window)  (Budget Plan – Table of Contents – Chapter 3.3: Investing in Training, Infrastructure and Opportunity – Improving Labour Market Opportunities for Canadians With Disabilities)
Monday, March 26th, 2012
We recently received a visit from Virtual Employ-Ability Program participant Allan, from Castlegar, British Columbia (new window). Allan has muscular dystrophy (new window) but he refuses to allow this to get in the way of living life to the fullest. Allan has been working as a dental hygienist for approximately 20 years. Due to the progression of his disability amongst other circumstances, he recently stepped down from his position in order to explore other career options. Allan possesses a "glass half full" attitude and takes much pride in caring for his wife and 3 boys. Spirituality is what keeps him grounded.
Thanks for visiting, Allan!