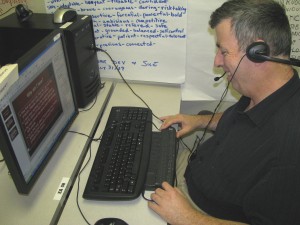 BURNABY, British Columbia–(January 14, 2010) – Coast Capital Savings (new window) has donated $5,000 which will support the Neil Squire Society's Employ-Ability program. These funds will help the Society deliver its program to approximately 80 people with physical disabilities in the Province of British Columbia, specifically the Metro Vancouver Regional District. This marks the second year in a row of support from Coast Capital Savings (new window) for this program.
Employ-Ability is a skills development program for persons with disabilities who are most marginalized in society, particularly those who have had very long term detachment from the labour force. The program provides a flexible, self-paced, and supportive environment, and services the full spectrum of people with physical disabilities.
"This support for the BC region of our Employ-Ability program from Coast Capital Savings is critical to our ability to fully reach out and serve persons with disabilities," said Gary Birch, Executive Director of the Neil Squire Society.
For more information about Coast Capital Savings, please visit the Coast Capital Savings website (new window).