Mouhamed "Paco" first came to the Neil Squire Society 8 years ago for an Assistive Technology assessment. He was 17 years old and had just had a cancerous tumor removed from his spinal cord. He used a wheelchair at that time and through extensive rehabilitation is now able to use crutches for short distances. Paco joined the Society's Working Together Program (then called Employ-Ability), and through this program, we helped secure Paco employment at the 306 Hip Hop Sk8 Shop (new window). It was while working at the Hip Hop SK8 Shop that Paco developed Handi-Able, a clothing line which has grown to become quite successful.
As a way to give back for the help that he has received, Paco and his team are holding a fundraiser for the Neil Squire Society on April 30th. 100% of the proceeds will go directly to the Neil Squire Society. We are humbled and honored by Paco's gesture and we hope that you will attend his event and support his clothing line.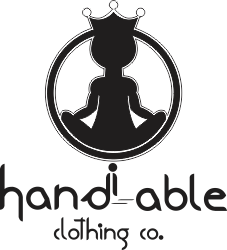 Event details
Handi-able in association with the Neil Squire Society Charity Fundraiser
Date: Saturday, April 30th
Time: 9pm – 2am
Location: Hookah Lounge, 2115 Broad St., Regina, Saskatchewan
$15 entry or $25 entry + Shirt (including promotional Handi-able x CJE shirt)
Live entertainment from Sask. Rap artist Pimpton (new window) of CJE
Music by DJ DREWSKI (new window) + KNOWGOOD
Proudly Sponsored by Propagate Records (new window)
Visit the Handi-Able + Neil Squire Society Charity Fundraiser Facebook page (new window).