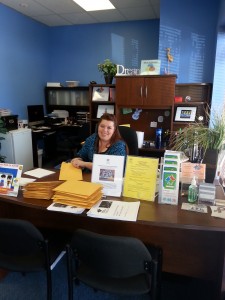 Terri-Lynn came to the Neil Squire Society (new window) in the spring of 2013 to gain some job search assistance. She had been out of the workforce for almost seven years after having developed an illness. Her father had recently completed the Employ-Ability Program and thought she could benefit from it. She began the Employ-Ability Program in the summer of 2013.
During her time in the Employ-Ability Program, Terri-Lynn quickly became friends with her classmates, and they became great supports for one another. Terri-Lynn's positive and outgoing nature helped bring out the best in them.
Because of Terri-Lynn's variety of skills, work, and volunteer experience, she had two very different employment goals: Administrative Assistant/Bookkeeper and Support Worker of Children with Special Needs. She created targeted resumes and cover letters to suit both occupations. Her education and work experience were in business, but a lot of her personal time was spent with family members and friends who had children with special needs. She was very involved in their lives and was interested in working with children with Autism (new window), but she couldn't afford to attend post-secondary education to become a certified Autism Support Worker.
She was referred to the Neil Squire Society's Working Together Program as soon as she graduated from Employ-Ability. She was one of the first clients in Fredericton, New Brunswick (new window). "I had meeting with the Working Together staff and we discussed what my goals were. I really didn't have to do too much paperwork or a resume update for them because I had already done the Employ-Ability Program," she says. "The Job Developer talked to people and I did my own applications; we worked together. I finally got an interview and it all worked out."
Of her new position, Terri-Lynn says, "Oddly enough, my employment goals were to work with special needs children, but I also wanted to work in an office atmosphere where you can talk to people and do numbers and office work. I wanted it all. At first I created two resumes and for whatever reason, the job appeared. It is almost like it was created for me. It has everything-all of it. I still find that a little strange. It is hard to believe I get to work with children with special needs, do office work, interact with people, and fundraising."
"Don't give up," says Terri-Lynn when asked if there was one message she'd like to send out to others in a similar situation. "For me, I don't think I'd have the job I have right now if it wasn't for the help of Neil Squire Society (new window). You offered support: we will find a job for you or create one. The support is worth it."