For Chilliwack resident David, off-roading in inaccessible locations has been a passion ever since he was a teenager.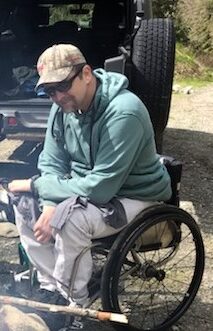 "That was one of my favourite things to do pre-accident," says David, who has a spinal cord injury (opens in a new window). "So over the last couple years I've been able to get myself a vehicle that I can use myself, that's accessible to me and capable of off-roading. I enjoy hitting the trail and going out into the backcountry, letting my dog run free and taking my family. We light a campfire and cook some hot dogs with some supper and just have quiet time and enjoy nature."
Meanwhile at home, David had been trying to look for a computer course that covered his needs, which were "off the beaten path". His questions were more centered around security, Wi-Fi connectivity, and routers for home use.
"It was just frustration," he explains. "Technology's great when it works, but when it doesn't [laughs] – it sucks. I just wanted to learn how to make things work better."
Earlier this year, David found out about Neil Squire's Distance Computer Comfort program through the Spinal Cord Injury BC (opens in a new window) newsletter. He reached out and soon began classes, with program coordinator Gordon Watt as his tutor.
In the sessions, David learned how to use his phone more effectively, and also received advice on the technical aspects of his computer.
"I enjoyed working with Gordon and his knowledge was great," he says. "It was great all the way around. We'd just go off on tangents. And in my mind that was great, because I was learning stuff I didn't even know was out there! I liked the flow and how open he was to follow and just go down whatever road we ended up on. And if I had a specific question, he always was good with covering that as well."
David hadn't used Zoom (opens in a new window) before, but he became familiar with it through the classes.
"I'd say it worked flawlessly," he remembers, adding, "It was at the right time when computer use – virtual meetings and connecting with people – became such a big thing due to COVID. It's enhanced my ability to communicate via computer, and allowed me to help my wife, answering her questions on how to use Zoom. She is now using it for business purposes. It gave me the knowledge that I was able to pass along and make things better – not only for myself, but my family too."
Another big change for David is that he now helps his kids with their technical questions – and it comes with a new nickname.
"I give my kids heck," he laughs. "I say, You guys are the ones who are supposed to know this stuff and be able to answer my questions. After this course, they're coming to me for support with computers, Wi-Fi for their video games. Dad the Hacker, they call me!"
"It's been a crazy year," concludes David. "And I would say I took the course at the right time. Kudos to Gordon to allow us to go down whatever path came up during the session. For me, it was awesome and I did learn a lot."
---
Our annual #PoweredToEnable Fundraising Campaign is running throughout December. Learn more about the virtual events happening this month and keep up-to-date on our success stories.
If you'd like to learn more about the work we do or find out about ways to give, please visit our donation page.
Thank you for your generosity.