The focus of the Neil Squire Society (new window) Research and Development Group (R&D), is to pro-actively facilitate the development of technologies, both mainstream and specialized, that enable persons with disabilities to fully access opportunities in our society. The main thrust of R&D is on new emerging technologies.
Many emerging technologies have significant potential to enable persons with disabilities and promote their inclusion in mainstream society. This is in part due to the ever-increasing power of these devices to accomplish various technological tasks. The most significant factor, however, is that these new technologies are being incorporated into the mainstream of our society almost ubiquitously, including in areas such as employment, recreation, and various forms of service delivery. Combined with the fact that these technologies are changing at a very rapid pace, this lays the foundation for a perfect storm of inaccessibility for persons with disabilities.
As new technologies come onto the market, they are not inherently accessible for a large majority of persons with disabilities and therefore become barriers rather than tools that allow them to take part in society like their able-bodied counterparts. The old paradigm of developing retrofit solutions to access mainstream information and communications technologies is failing persons with disabilities because in the current paradigm these "fixes" cannot keep up. This points to the need to invent new strategies to deal with today's unprecedented pace of new information and communications technologies introduction.
R&D pursues this work in a variety of ways including: working with government and regulatory bodies around accessibility requirements and regulations related to technology; working with industry to help them better understand the need for inclusively designed technology; participant centred research on the accessibility of new emerging technologies and/or the related services delivered using these technologies; and the research and development of prototype or "proof-of-concept" technological accessibility solutions that can be adopted by mainstream or assistive technology industry.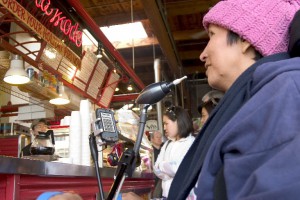 For over 35 years, R&D has built a strong international reputation for its work in creating technologies and solutions to enable these people with disabilities to achieve their potential in educational, vocational and personal pursuits.
R&D has highly-qualified and experienced engineers whose areas of expertise include electrical and mechanical engineering, signal processing, software development, focus group facilitation, human factors, internet accessibility and ergonomic design.
Our work has only been possible through government grants and contracts and generous donations of equipment, facilities, and funds from a diverse group of corporations, academic institutions, community organizations and research agencies.
Current Projects and Activities
Please visit our Projects and Activities page to see all of our past projects.