"I'm not prone to depression (new window)," says Computer Comfort client Aaron, "but I've got to admit before coming to the Neil Squire Society I was pretty depressed." That was just before Christmas. Aaron had been working in construction and in the film industry for many years, jobs he was no longer able to do after a film set fell on him at work four years ago, fracturing several vertebrae in his back.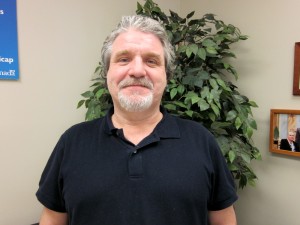 Finding the disability benefits under PWD inadequate to provide for himself and his 11 year old daughter, Aaron tried several times to go back to construction jobs, jobs he found familiar. However each time he would work for a day and end up "laid up" on the couch for a week. Through this painful process Aaron realized he needed to find an alternative type of work and this meant gaining some new skills.
By the time he had found the Neil Squire Society, life had become pretty frustrating for Aaron. After his accident he moved out of the home he had been sharing with another man in order to provide a more positive environment for his daughter. At one point all his clothing had been stolen from the Laundromat where he had been washing them and getting them replaced proved to be nearly impossible. He was also having doubts about whether anyone would be willing to hire a 46 year old starting a new career.
"I just wanted someone to say 'You've got options,'" explains Aaron. And that is exactly what he found at the Neil Squire Society. Before joining the Computer Comfort program he didn't know how to send an email, but now he's become more comfortable with the basics and feels that he could even write out reports using a computer. With his confidence increasing, Aaron is ready to take the next phase of his career. He's considering becoming a home inspector "This place is a godsend," he declares emphatically, "it's a place where you can try and change your future!"
Way to go, Aaron!
If you would like to make a donation to support others like Aaron, you may do so here.