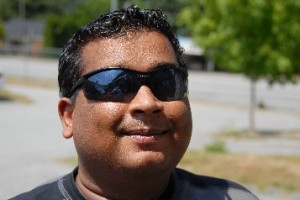 Amit came to see the Neil Squire Society's Employ-Ability program because he had been out of work for some time and found that his blindness was a real barrier to finding and maintaining employment. As he worked with Career Facilitator & Job Developer Anu Pala to sharpen his interview skills and learn more about connecting with employers and what would impress them, it was suggested that if he was currently volunteering, he would look more appealing to employers.
Amit has a strong background in computers and is highly literate in using the screen reader software, JAWS (new window). As more students with visual impairment come to the Neil Squire Society, we have found that we needed someone who could provide some intermediate level coaching for students who had learned the basics but needed to fine tune and practice their skills to raise their employability. Amit partnered with another graduate of the Employ-Ability program and began meeting once a week for coaching sessions. During this time Amit continued to apply for jobs with the help of Anu.
All of Amit's hard work paid off when he recently secured a position working at a Community Access Program Site (CAP) (new window) for the Vancouver area. The job entails providing support for people who use CAP sites which are designed to help communities establish public Internet access sites and to train local citizens to make use of information technologies for the social and economic benefit of both individuals and communities. Under CAP, public locations like schools, libraries, community centers, local businesses and service-delivery centers act as "on-ramps" to the Information Highway, and provide the computer support and training.
In September of 2009, Amit started his new job. He is thrilled to be working again, especially in the field of computers and working with the public.
If you would like to make a donation to support others like Amit, you may do so here.