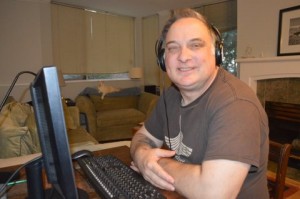 Realizing that computers are a necessary avenue for accessing and communicating with the world, Shaun wanted to develop his skills. One day Shaun's wife came across the Neil Squire Society (new window) on the Internet. Shaun knew that he wanted to get involved right away. Within days of calling the Neil Squire Society, Shaun received a pair of microphone headphones and quickly registered with the free online computer tutoring program, Distance Computer Comfort.
Shaun found that Distance Computer Comfort was the prefect program for him because he was able to learn how to use the computer in the comfort of his own home. Shaun has a spinal cord injury and is only able to stand for a maximum of 10 minutes and cannot walk for more than half an hour. Even though his main form of transportation is the transit system, it's quite a trek from his home to the Neil Squire Society's Burnaby office. Shaun is capable of using his wheelchair to access public transit but he must make multiple bus transfers and finds the journey overwhelming and challenging. Shaun would rather work from home because it's more accessible and much more comfortable.
For eight weeks, Shaun worked with an online tutor and developed a general appreciation of the computer. Shaun found that by enhancing his skills, he was able to reduce his computer anxiety, and he became more knowledgeable of Microsoft Word and email (new window).
Shaun feels the Distance Computer Comfort Program was a fantastic opportunity to learn the necessary computer skills in the comfort of his own home. He found that Gordon, the Distance Computer Comfort Coordinator, "to be very patient, motivating and caring." The learning experience at the Neil Squire Society has provided Shaun with the necessary tools to assist him in his future goals, especially his desire to express himself through creative writing.