BURNABY, British Columbia, November 15, 2010 – Through their national corporate citizenship program, Great-West Life, London Life and Canada Life (new window) have contributed $40,000 to the Neil Squire Society. These funds will be used to continue to develop and expand the Society's reach to partner sites and persons with physical disabilities across Canada.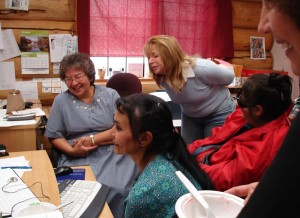 "We are thrilled to once again have the support of Great-West Life, London Life and Canada Life (new window) for our Employ-Ability program," said Gary Birch, Executive Director of the Neil Squire Society.
"This two-year commitment is tremendously appreciated as it helps us reach out and meet the needs of the most marginalized persons with physical disabilities in Canada".
Including this commitment, Great-West Life, London Life and Canada Life have contributed more than $100,000 in working with the Neil Squire Society since 1992 to build stronger, more inclusive communities.
Employ-Ability is a skills development program for persons with disabilities who are most marginalized in society, particularly those who have had very long-term detachment from the labour force. The program provides a flexible, self-paced, and supportive environment, and services the full spectrum of people with physical disabilities.
About the Neil Squire Society
The Neil Squire Society is the only not-for-profit organization in Canada that for over 25 years has used technology, knowledge and passion to empower Canadians with physical disabilities. The Society has developed innovative programs and services and some of the world's leading edge assistive technology for people with physical disabilities. More than 20,000 people with disabilities in Canada have benefited from the work of the Society. With about fifty staff, the Neil Squire Society has offices and provides services to Canadian in Vancouver, Regina, Ottawa, Fredericton, and Moncton, as well as to many small communities across Canada via distance education.
# # #
If you'd like more information about this topic, please contact Suzanne Cross by phone at 604-473-9363 or by e-mail at suzannec@neilsquire.ca.