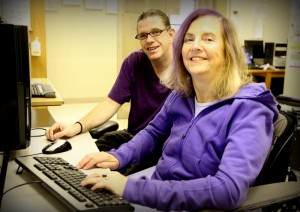 If you've ever thought about becoming a volunteer, but you've never acted upon it, now's the time!
We are looking for new volunteer tutors to work in our Distance Computer Comfort Program. Our volunteer tutors teach people with disabilities basic computer skills in a fun and informal way.
We're specifically looking for volunteers who are available at the following times across Canada:
Pacific Standard Time
• 9am to 11am
• 10am to 12pm
Mountain Standard Time
• 10am to 12pm
• 11am to 1pm
Central Standard Time
• 11am to 1pm
• 12pm to 2pm
Atlantic Standard Time
• 12pm to 2pm
• 1pm to 3pm
Eastern Standard Time
• 1pm to 3pm
• 2pm to 4pm
This is your chance to gain valuable teaching experience and enrich your life by witnessing the personal growth of a person with a disability gaining computer skills.
Please read more about this volunteer opportunity here.