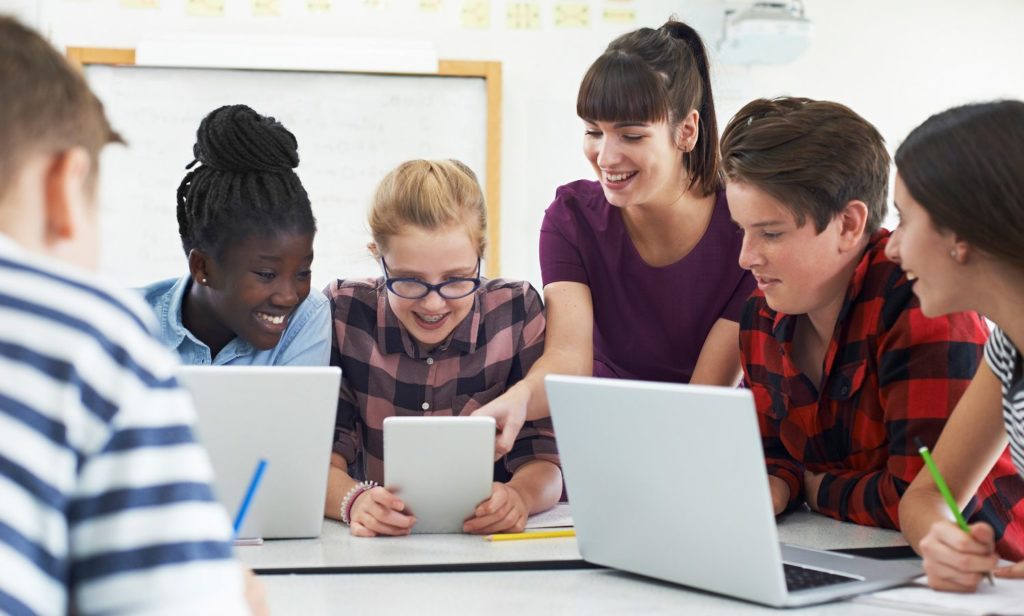 Edmondo is a free app for teachers, students, and administrators that has been designed to centralize and digitize homework, communications, and classroom resources. The app allows teachers to create and upload quizzes, lessons, and resources to a virtual classroom which can then be accessed by students. With a userbase of nearly 100 million, and a consistent ranking in the top 10 education apps on iTunes, Edmondo is a major player in the world-wide shift away from the rigidity of traditional educational practices.
This is a highly accessible, digital platform that allows teachers and students to engage in classroom content in a straight-forward and rewarding way. With Edmondo, teachers have the ability to deliver information using multiple means of expression, representation, and engagement, thereby giving their students access to classroom content that falls within the framework of Universal Design for Learning.
Accessible Resources and Tests
The library section of the app allows users to create and upload assignments, quizzes, and resources. Here, teachers are able to create their own quizzes via the app using a built-in quiz creation function. Teachers can also upload Word documents, Excel worksheets, or PowerPoint presentations. Assignments and resources can also be shared via Google Drive or by hyperlink, thereby allowing teachers to create and share audio or video content with students whose learning style may prevent them from effectively learning via traditional methods.
Enhanced Engagement and Communication
Edmondo is all about engagement. The user interface is clean and well-designed and should feel familiar to any user who has used a major social-media platform such as Facebook. The platform encourages teachers to engage in the conversation within their school by allowing them to create connections with other teachers and to share and discuss resources.
The app also allows students and teachers to message each other, giving students and teachers the ability to share information (as well as attachments) when its most critical.
Teachers have access to a "What's Due" section where teachers can view completed assignments. Here, teachers can sort assignments by class or student, and once an assignment is reviewed, it is placed into a separate category. Because the homework is so clearly (and automatically) categorized in this section, teachers won't need to spend their often-limited time on organization.
Edmondo also encourages student engagement by laying out assignments, quizzes, and resources in a highly organized, easily accessible platform. Students will receive notifications when homework is added or changed, allowing them to stay on task and to stay connected.
Students also have access to a virtual student planner which identifies upcoming deadlines, and allows them to add their own custom tasks, thereby turning the app into a highly effective digital agenda.
New Features
Edmondo is consistently updating and improving their product, and they've recently completed a major update which saw:
A newly improved mobile app
New text formatting options
Improved messaging
Redesigned home page
New and improved resources
New Edmondo integrations
Availability as a Chrome extension
To lean more about these newly added features, as well as an overview of the app as a whole, check out this video(new window) which was created by the Edmondo team. The video also features relevant links in the description section, so you can explore the individual elements that are mentioned via clickable links.