Kate, who is 64 years old, is an active volunteer. She is the president of a Nanaimo-based self-help MS group. She is also a member of a society that is helping a family from Afghanistan immigrate to Canada. The society brought two students over in 2013, and is currently raising funds and community support for another family.
Due to multiple sclerosis (new window), Kate is dependent on HandyDART (new window) to get around. "I don't have a natural thermostat in my body and my body doesn't sweat, so I end up feeling like a dishcloth on a day like this," says Kate. "Everything is a huge effort physically."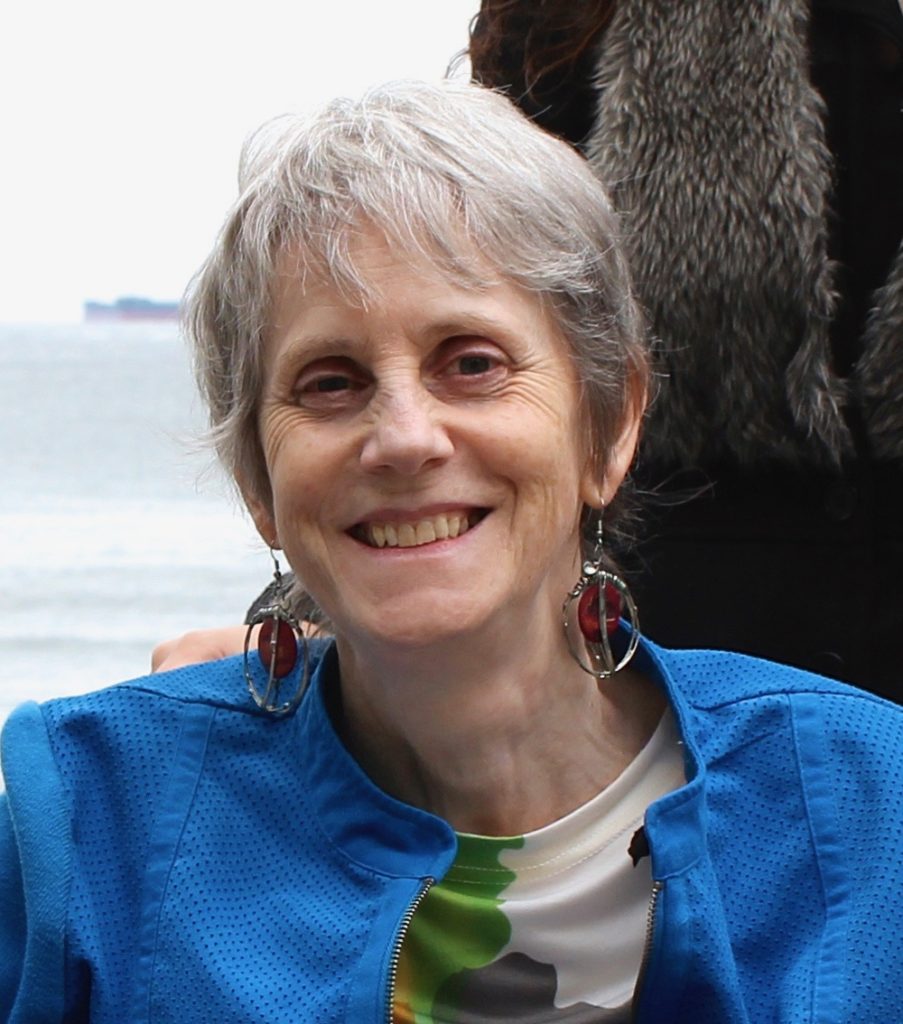 When she heard about the Neil Squire Society's Distance Computer Comfort program, she thought it was just what she was looking for.
Kate was a little familiar with technology. She writes newsletters as part of her volunteer roles, and she has used Skype (new window) to teach English to a student in Pakistan. "I wanted to learn new skills when I write newsletters for both the societies that I work with. And I wanted to be able to do more things with pictures and graphics."
Kate was paired with Bruce, a volunteer based in Penticton. They hit it off instantly. "Bruce is an absolute gem," says Kate. "It was brilliant because firstly, he's got the patience of a saint. Secondly, he's a trained, experienced teacher. It was like a dream come true."
"I think Kate and I hit it off right from the start," says Bruce. "We are both in the same age segment, so we could discuss many of the challenges facing us as 'older' users of technology. Working with Kate was a delight."
Kate found that she would ask Bruce the same questions over and over again, because she had forgotten. But since Bruce was self-taught to a degree, he had an inkling of where she was coming from and worked according to her pace.
At the end of her tutoring period with Bruce, Kate's confidence with technology increased drastically. She says: "I'm more confident when I'm putting together the bimonthly newsletter that we put out with our society. I can even answer questions for other people, which is stunning. And I think my kids are a little less rude to me!
"Oh, and I can do things like tidy up my screen and put things in folders. I get picture-happy when I get out my iPad (new window). I now know how to delete them, crop and cut them, or to change the intensity of the lights, or make them look like they were taken two centuries ago. That's very exciting for somebody who couldn't do a thing!"
These skills also helped Kate on a personal level. She immigrated to Canada from the UK 25 years ago, and one way she keeps in touch with her family is by sending an annual Christmas letter. She puts the letter together along with photos, and her new skills have come in handy.
"It's such a good service," says Kate about the Distance Computer Comfort program. "I asked Bruce if I could contact him after the classes finished, if I had a query, and he was just so encouraging, saying, 'I would love to help any time.' I have nothing but praise for the [Neil Squire] Society."