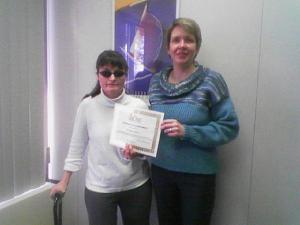 Lee Ann, currently a participant in Neil Squire Society's Computer Comfort and Employ-Ability programs, is employed as a volunteer as she works toward a paying position in the social services field.
Lee Ann has scoliosis (new window) and osteoporosis (new window) , which require her to use a walker to get around. She begins most days with a four-hour physiotherapy session. Pain and lack of sensation in her hands and feet are some of the challenges she faces every day. Despite these obstacles, Lee Ann brings her sense of humour everywhere she goes.
To access the computer, Lee Ann uses a trackball and a program available in Windows called Sticky Keys (new window). She is learning how to more effectively use Microsoft Word (new window) , email and the internet. She currently uses the internet to search for employment opportunities and has been emailing her resume and cover letter to potential employers.
Lee Ann's goal is to work in the social services field. She has some related volunteer experience but has yet to secure paid employment. She recently began volunteering as a ticket-seller for 50-50 draws at Ottawa Senators hockey games (new window). The draws raise funds for the Ottawa Senators Foundation (new window) which provides financial and in-kind support for organizations focusing on child and youth services.Lee Ann is excited about her new volunteer position, explaining, "On the surface, selling tickets doesn't seem related to social services, but I'm telling people about the work of the Ottawa Senators Foundation (new window) and building my communication skills and self-confidence at the same time." She believes that this networking opportunity could lead to employment with one of the agencies the Ottawa Senators Foundation (new window) supports.
Good luck Lee Ann!
If you would like to make a donation to support others like Lee Ann, you may do so here.