Last week, we welcomed two new, albeit temporary, members to our team — Angela and Kelly. For the week, we had two high school students come and actually make some LipSyncs.
Angela nearly done with the electronics assembly.
Angela, a Grade 11 student at Burnaby South Secondary (new window), and Kelly, a Grade 12 student at Burnaby North Secondary (new window), are both participants in the Industry Certification Program (CISCO Networking Academy) (new window), a Burnaby School District program which earns them credit for an apprenticeship as a Computer Networking Technician. Part of the program's requirements is getting work experience.
For both, working with the Neil Squire Society provided an opportunity for not only work experience, but a chance to make a meaningful impact in people's lives, with each building an individual LipSync prototype that would be used.
"It's a very interesting process because the prototype that we're building is potentially going to help another person be able to access a mobile device, which is very encouraging and very motivating," says Angela.
While the idea of having the two high school students come in was meant to see how easily could someone with little experience, who hadn't been working on these for months could actually assemble a LipSync, we were surprised at just how well Angela and Kelly did.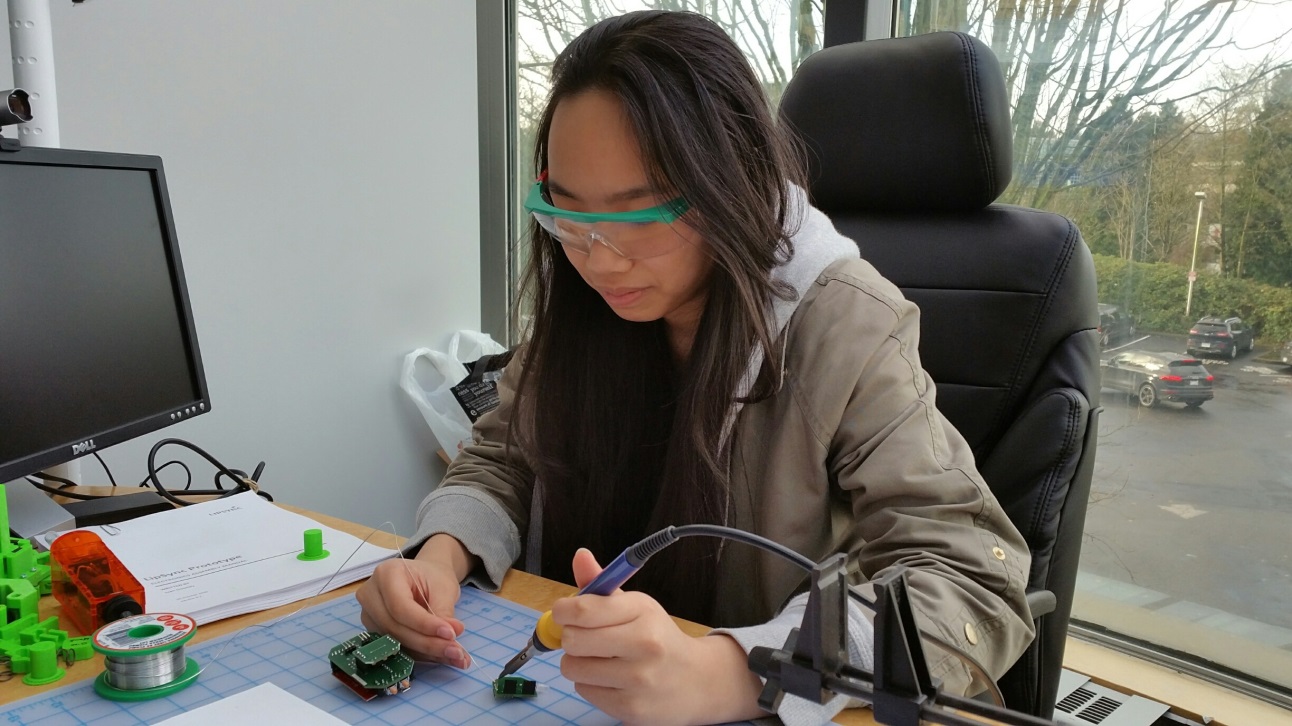 Kelly doing some soldering.

"Definitely exceeded my expectations," says Charles, one of our mechanical engineers. "It really was [encouraging], because I was a bit concerned about the level of difficulty with the instructions. [. . .] The fact that they breezed through it relatively easy and the products look good is a pretty good result."
Aside from a few suggestions for "tweaks" in the instructions, Angela and Kelly found the process relatively simple.
"As a person who has never done any mechanical stuff really, it was a pretty straightforward process to build it," explains Kelly. "I don't think there's much challenge. Aside from having the time to do this, having all the tools, but in the manual it lists all the tools that you need really clearly, so as long as you have the time and the patience to make this yourself, it should be okay."
Angela and Kelly both expressed interest in potentially making LipSyncs in the future.
"I would love to help distribute these, because it's really important to give access to technology for everyone," says Kelly.
"It's a very enjoyable thing to make, as well as knowing that you can help people is very encouraging and I hope this project is able to continue and help a lot of people," Angela explains.
And the two students weren't the only ones learning.
"I learned a few things along the way just by watching them assemble it," says Charles. "Having an outside look on the whole process and the design of the product and the instructions is really helpful."