Over the weekend, we had a great time in San Francisco at the Bay Area Maker Faire (new window).
Above: Director of Development, Chad Leaman, speaking near our booth.
Below: Manager of Research & Development, Harry Lew, assisting interested makers.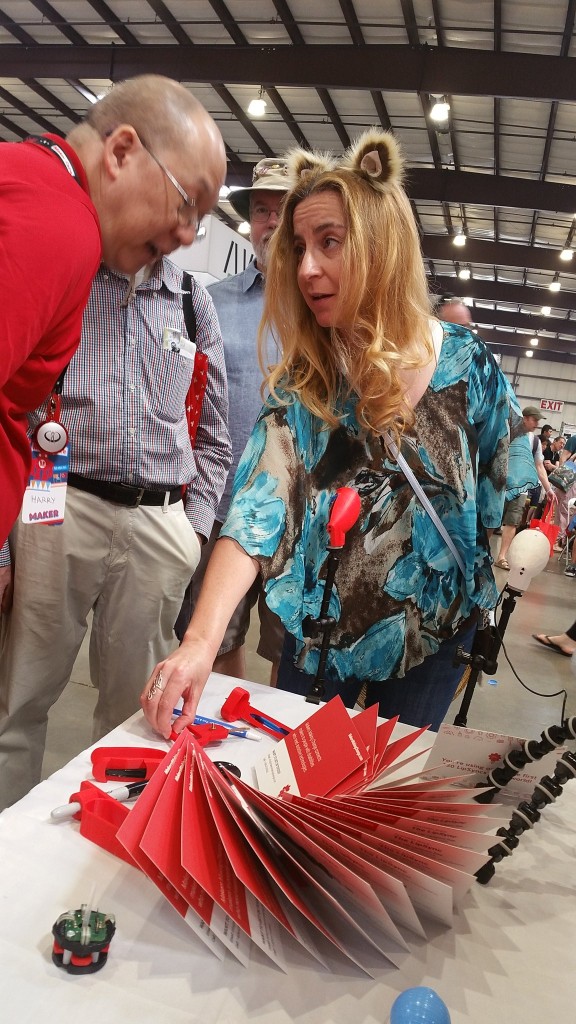 It's always a fascinating experience at a Maker Faire, and this was the largest gathering of makers. There's a little bit of something there for everyone. It's kind of like a hybrid science fair/art exhibit, but it's just on another level.
Our purpose there was to get makers involved in the LipSync project and the Makers Making Change (new window) initiative. What an event like the Maker Faire really allows us to do is engage with makers and hobbyists who have the skills — say, 3D printing — but aren't already in our demographic.
We had over 300 people sign up, and had made contact with local maker spaces and institutions who were interested in hosting events in the future.
It was also interesting in the sense that we got to see a lot of inspiring projects. The six booths around us were all technology and disability-related, working on similar goals. One such group was a group of students from UC Berkeley (new window) who hosted a TOM (Tikkun Olam Makers) event (new window), where makers pair with people with disabilities to create solutions. (Sound familiar? (new window)).
Above: Jennifer and Chris, sister and brother. Chris trying out his new LipSync. (story below).
Below: A nurse at Santa Clara Valley Medical Centre trying out their new LipSync.
As usual on these trips, we got to do some work outside of the Maker Faire. We got to see the Google head office. We also were able to deliver a few LipSyncs to local hospitals and people.
One of our deliveries was to man named Chris (pictured above), in San Jose. His sister, Jennifer, actually lives around here, and came to the BCTECH Summit back in January to check out the LipSync for her brother, and facetimed him the device. Now, I was able to deliver it to him, and she flew down for the event.
We have a whole bunch of exciting events coming up. First, we have the Makers Making Change and Telus (new window) Day of Giving LipSync Buildathon which will take place on Friday, June 2nd and Saturday the 3rd at the Innovation Centre at Telus Garden (new window) in Vancouver, British Columbia. This event coincides with National AccessAbility Week and is part of the Telus Day of Giving (new window). 
Speaking of Maker Faires, we'll be at two local ones. We'll be at the Sunshine Coast Mini Maker Faire (new window) on Sunday, and at the Vancouver Mini Maker Faire (new window) on June 10th and 11th.