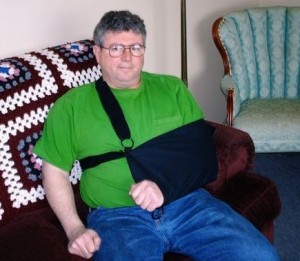 The Neil Squire Society entered my life at just the right time. They say nothing in this world is a coincidence. You meet the right people at the right time in your life and I believe this now more than ever before. I have never met a group of people with so much dedication and compassion for another human being.
I used to work in Northern British Columbia (new window) as a Class "A" Mechanic when I sustained an injury to my left shoulder and underwent surgery. As a result, I was forced to retire from my line of work and any other types of work involving physical strain. Three of my four tendons were severed from my upper shoulder and remain irreparable.
Having grown up in Pembroke and wanting to be close to my family, I decided to relocate and start exploring my options for an alternative career there. While attending a session with the Pembroke Outreach Program, I found out about Neil Squire Society's Employ-Ability program offered through distance learning in Pembroke. Soon after, I contacted the Society and joined the program in mid 2006.
The program included two components: Wellness for Work and Assistive Technology Skills Development. The courses were taught with utmost professionalism and courtesy. In order to ensure that our work space during the program worked for us, the Society's occupational therapist conducted individual ergonomic assessments to set-up appropriate chairs and computer stations for each participant in the program. This also made us aware of how our workstations need to be organized to help us perform to the best of our abilities when we are employed. I felt the program and the people at the Society really understood our needs as well as our desire to learn and compete in the world around us.
After graduating from the Employ-Ability program, I was employed by On Line Support (new window) , which is a call centre in Pembroke. I'm currently working on the Fido account and thoroughly enjoying it. Whether it's repairing a mistake on a customer invoice, giving credits, explaining promotions or adding a new feature to a customer's existing phone, it all makes for a very rewarding day. In my job, I always remember to extend the same compassion to people that was extended to me at the Neil Squire Society.
Having rediscovered myself and my abilities, found my lost confidence and embarked upon a fulfilling new career, I'm very grateful for this second chance in life. The people at the Society taught me that a disability is not something to hang your head down and think that there is nobody who would listen or care. They care. My life is much brighter than anyone can imagine and there is no goal in this life that I cannot achieve. I just want to say: Thank you Neil Squire Society!
If you would like to make a donation to support others like Robbie, you may do so here.