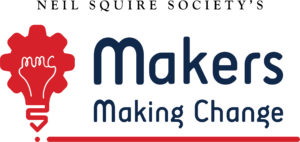 Six TELUS Days of Giving LipSync Buildathons will take place across Canada from May to June, 2018.
BURNABY, April 27, 2018 – TELUS (new window) is partnering with the Neil Squire Society's Makers Making Change (new window) to host six TELUS Days of Giving (new window) LipSync Buildathons in Canada. Locations include Calgary, Kelowna, Vancouver, Victoria, Edmonton and Toronto.
More than 150 TELUS employees will be volunteering at these events alongside technical mentors from Makers Making Change to build over 100 LipSync devices. The LipSync (new window), a mouth-controlled joystick, furthers the accessibility of Android smartphones and touchscreen devices for people with little or no arm movement. Each LipSync that's built will be donated to people with disabilities in the regions they are made.
Media are invited to attend the following events:
Makers Making Change has hosted LipSync Buildathons across Canada and the United States, producing over 350 LipSyncs ready for use by people with disabilities.
TELUS Days of Giving is TELUS' global volunteer movement that inspires team members, retirees, and their family and friends to give back in the communities where they live, work and serve. This year, more than 22,000 team members will volunteer at 1,700 activities across Canada. In 2017 alone, the TELUS team volunteered a remarkable one million hours, and team members are feeling more invigorated than ever to give back again this year.
TELUS is committed to ensuring their products and services are accessible to all of their customers. For more information about accessible products and services, please visit TELUS' accessibility centre (new window).
About Neil Squire Society
"We use Technology, Knowledge, and Passion to Empower Canadians with Disabilities". The Neil Squire Society is a national not-for-profit organization that empowers Canadians with disabilities through the use of computer-based assistive technologies, research and development, and various employment programs. The Society has served over 40,000 people since 1984.
About Makers Making Change
Makers Making Change (new window) is an initiative by the Neil Squire Society. It connects Makers to people with disabilities, to create access solutions. It also features a library of various open-source assistive technology projects (new window), with parts, instructions and reviews to support makers and people with disabilities. Their first major project is the LipSync.
Media inquiries:
Suzanne Wiens
Neil Squire Society
604-473-9363
suzannew@neilsquire.ca
@NeilSquireSoc