Birk is a Product Design student at Kwantlen Polytechnic University. This summer, he is working with Neil Squire's Makers Making Change (new window) program on a number of projects.
"I have been passionate about improving the quality of life of others my entire life, having my developmentally disabled and deaf uncle live with me for most of my life," says Birk. "Another reason is that in 2019, one of my best childhood friends was involved in a serious car crash leaving him quadriplegic."
Birk initially started 3D printing personal protective equipment (PPE) after one of his professors proposed the idea, taking WorkSafeBC regulations and user experience into account. He began with a surgical mask strap model from Thingiverse (new window) that his professor sent over.
"A group of us started 3D printing and laser cutting them, using the resources we had at school," explains Birk. "I have my own Prusa MK 3S 3D printer at home, so I used that instead. To show my appreciation and to try and lift the spirits of frontline healthcare workers during a very unpredictable and uncertain global pandemic, I modified the file and added a custom smiley face."
Birk started sharing his work on his Instagram account @birkprints3d (new window), which helped him connect with people who needed the items.
Another group, partly organized by a Product Design graduate, asked if Birk could donate some of the ear savers and print some jigs to help sew masks. He has printed bias tape jigs, pleat-making jigs, and buttons for sewn ear savers, as well as mask templates that help cut the fabric quicker to speed up production.
"To date, I have printed almost 400 ear savers, 100 buttons, 25 mask templates, 10 pleat-maker jigs, and various jigs to help with sewing production," he says.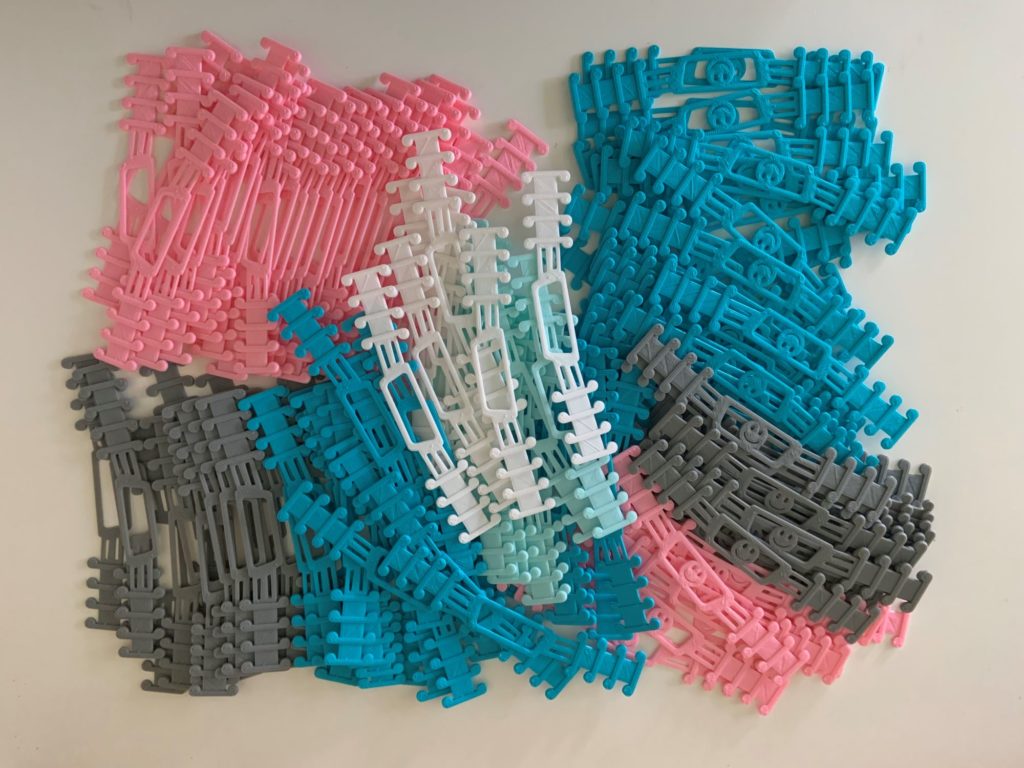 "I was inspired to work with Neil Squire and Makers Making Change because I love 3D printing and design and have always believed in helping others. I am privileged to have full mental capabilities and physical mobility and I believe that I should be helping others that don't necessarily have access to or the ability to do the things that I can, such as use a computer or play video games. Neil Squire and Makers Making Change offer affordable alternatives to assistive devices available on the market."
Birk's summer internship at Neil Squire is partially covered by the Canada Summer Jobs (new window) program. Neil Squire has been an employer under this program for over 10 years.
Birk has now been working with Makers Making Change for three months. "I have loved every minute of it. The team has been very welcoming and encouraging and they create a wonderful atmosphere to work in, even from home. It has been an amazing experience so far and I am looking forward to the rest of the summer.
"My favourite moment would have to be giving my friend a Gaming LipSync. Seeing his reaction and enabling him to do something he loves re-instills why I love helping people."
Most recently, Birk worked on the Open Wobble Switch (new window). He is looking forward to working on new switches as well as improving existing switches on the Makers Making Change website.
Here are photos of the items Birk has been printing: