Neil Squire and their Makers Making Change (new window) initiative joined forces with Electronic Arts (EA) (new window) today to hold one of the first gaming tournaments of its kind in North America, one in which all of the participants were gamers with disabilities who used assistive technology to play.
Held in The HIVE at EA Vancouver, the Powered to Game (new window) tournament was friendly in nature and allowed a glimpse into the world of accessible gaming for the game developers at EA, many of whom stopped by to watch.
The tournament was focused on two games: NHL 20 and FIFA 20. Need for Speed: Heat, Plants vs. Zombies: Battle for Neighborville, and Star Wars Jedi: Fallen Order were also on hand for the gamers to demo.
One of the gamers in attendance was Teri Thorson, who acquired a spinal cord injury at the age of 24. "I'm here today because my son is really into gaming. I really want to be able to play with him and understand what he's doing online, so what better way than to learn about it myself," says Teri. "I don't have any hand function which makes using a regular controller and pushing buttons very difficult for me. I haven't been able to play games myself since. Today I'm using the Xbox Adaptive Controller along with a couple of buttons that were designed by Neil Squire, as well as a joystick that Neil Squire provided."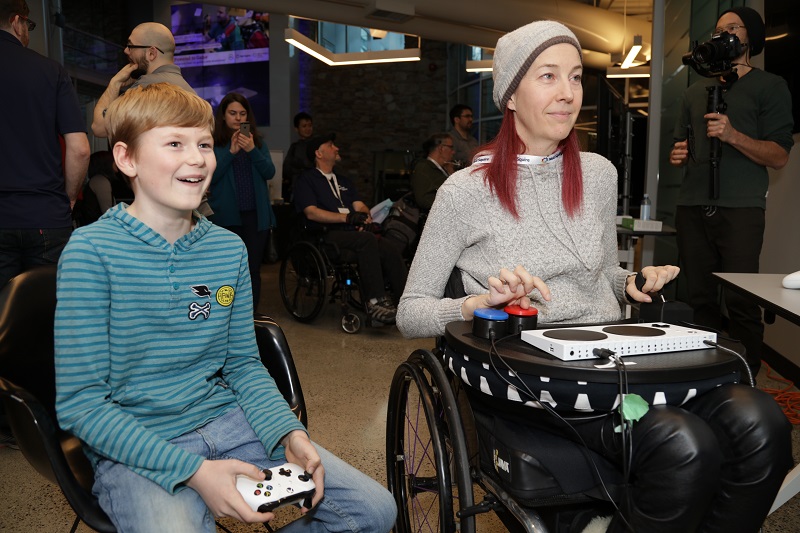 Teri Thorson, a participant in the Powered to Game tournament using an Xbox Adaptive Controller, a Joystick, and custom buttons, plays with her son.
Lifelong gamer, Alex Carey, has spinal muscular atrophy type 2. "We're here to showcase accessible technologies and show that people with disabilities are able to play and have fun just like the rest of the able bodied community and are able to participate in something that's such a regular pastime for people," said Alex. "I use button remapping on a standard controller in order to play games."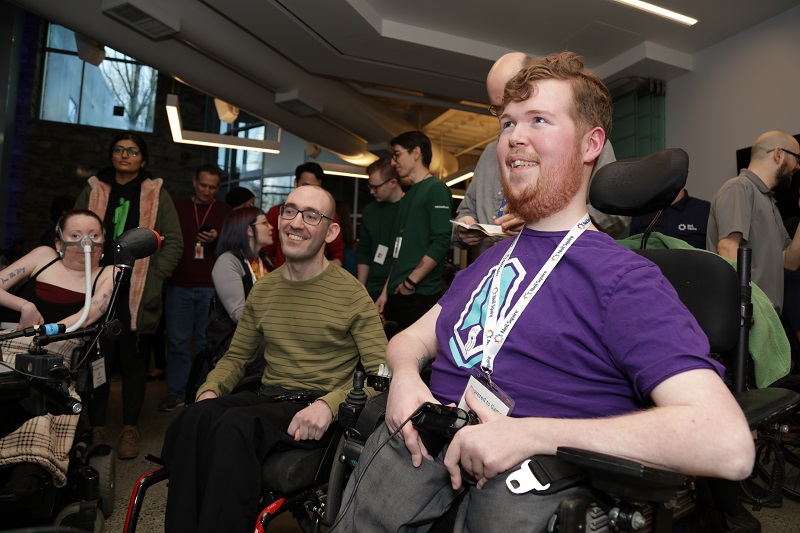 Alex Carey, a participant in the Powered to Game tournament utilizing button remapping on a standard controller.
Leading up to the event, players were given the chance to prepare by trialing a variety of assistive technologies at Neil Squire's office in Burnaby. These included custom switches and the LipSync, a mouth-controlled input device designed by Makers Making Change, and Xbox Adaptive Controllers from Microsoft.
There are an estimated two million Canadian gamers living with a disability and 10 million in the U.S.