Good nutrition is a significant but often overlooked aspect of health, and studies(new window) have shown that healthy eating has a significant impact on an individuals physical and mental well-being. In fact, the study linked above asserts that "…nutrition services and programmes for children and adults can act as entry points to address and, in some cases, avoid or mitigate disability". Of course, the challenge is, when physical or learning disabilities affect an individual's independence, it becomes that much harder to maintain good nutrition and stay in good physical and mental health.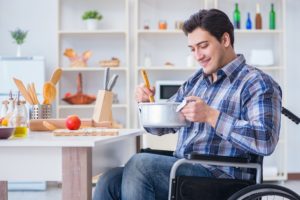 Look, Cook, and Eat is a website-based service which encourages healthy eating habits by teaching cooking skills to persons with disabilities using easy to follow, diversely represented steps. The website format is highly visual without being overly distracting, and even features audio descriptions of individual ingredients and cooking tools, making it highly accessible to auditory learners. For users that prefer a more visual style of representation, ingredients and tools can be zoomed in on via tap gesture.
The videos always feature a straightforward, three-step format, so users who struggle with attention-based disabilities will not find themselves overly distracted while cooking. The flexible format of Look, Cook, and Eat strongly encourages universal design principles, and each dish can be printed like a traditional recipe, resulting in a multi-sensory cooking and learning experience that combines visual, auditory, and kinesthetic learning styles.
The website puts great emphasis on complete, balanced meals, with most recipes including healthy servings of fruit and vegetables, and every recipe includes a complete nutritional breakdown including fat, calories, sugars, etc.
Look, cook, eat is a browser-based subscription-based service at a cost of $30 per year. To register for the service and claim a free month subscription, click here(new window). To learn more about Look, Cook and Eat, click here(new window).