The BC Christian Academy (new window) is a junior kindergarten to Grade 12 Interdenominational private school in the Greater Vancouver area, which draws students from the tri-cities area and throughout the Lower Mainland. They have 64 employees and have been operating since 1992. Recently, they started a new program and needed to hire some additional staff.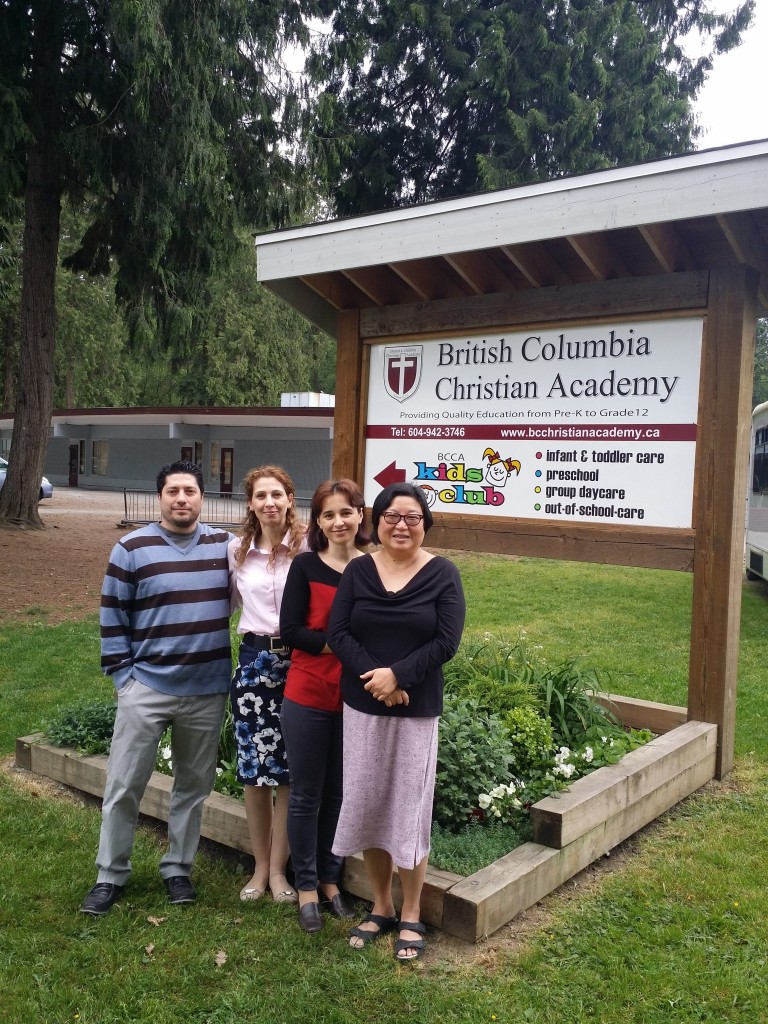 "Through the [Neil Squire Society's] Working Together wage subsidy program, we were able to create two new positions to help in the overflow of work and new duties," shares Rosie Shen, Business Administrator at the BC Christian Academy.
Laurentia has scoliosis (new window) of the spine. Throughout her childhood she attended medical gymnastics to strengthen her back muscles and found it didn't bother her too much. However, after two pregnancies, she began to feel pain in her back and between her shoulders. She saw a specialist, but didn't see any significant results. "The pain is there; it's a diffuse pain which bothers me all the time," says Laurentia. "I can't make major moves, can't stay long in a seat or standing [position], and can't carry heavy things."
Laurentia immigrated to Canada in 2014, but even with a Bachelor's Degree in Social Work and experience working with children, she was having difficulties landing a job. "I think that was because I didn't have experience here even though my studies were fully recognized here," she explains. Despite this, Laurentia volunteered her time as a Settlement Worker with the Immigrant Service Society of BC (new window), and as an event organizer for seniors at the Royal Crescent Garden (new window) in Maple Ridge.
Silviya has a hernia (new window) on her neck which affects her ability to balance. "I wasn't able to drive for about three years to work or to do daily duties," Silviya notes. "I needed a lot of help from my parents. I wasn't able to do a lot of things by myself." Sylvia underwent physiotherapy and received treatment which made her feel better, but lifting heavy things causes her neck pain.
With a degree in marketing and 15 years of experience in that field, Silviya's goal was to find a job that responded to her skills and experience. Silviya was a parent volunteer at the BC Christian Academy for three years and it was through volunteering that she found out about the Neil Squire Society.
The Society's Working Together Program was the perfect fit for both women. For Laurentia, it offered her the opportunity to gain the experience she needed in Canada. Through the program, Laurentia was hired as a Special Education Assistant where she provides assistance in supervision, care, and instruction of special needs students. This position has greatly increased her confidence "because I can use my skills and competences."
Silviya now works as an Office Assistant at the school. She works in the marketing department, helping with events preparation, and assists with new student registration. "I feel very good here in the school. I'm positive about my job. I love the place, the school and the people here," says Silviya. "I am working with a lot of passion."
"Both candidates we hired are very strong in their organizational skills, which has been a great help to us," explains Rosie. "They are quick in learning any task given to them and work fast and reliably." Laurentia and Silviya had limited experience in their new positions; however the Working Together Program provided both the school and the new employees the time to train them. "No special accommodations were needed," Says Rosie. "It has been a pleasure working with the team at Neil Squire where they make the process of hiring someone fast and efficient," says Rosie. "They are very helpful and quick in responding to our needs, questions and challenges."
"This program is amazing and for me it fits perfectly. I hope other people will benefit through this program, and I will recommend warmly to anyone," says Laurentia.
"My life is very different now," shares Silviya. "Serving in the school makes me so positive that I am serving people. This was the most important to me – to find a job where I can serve with my knowledge and skills and help people."