After an extensive career in the Canadian Forces, Veronica developed metatarsalgia (opens in a new window) syndrome. This syndrome causes pain and discomfort in the balls of her feet when standing and walking for long periods of time, and is common in individuals who participate in intensive training. Veronica also has facet joint syndrome (opens in a new window), causing pain in the lower back when seated for extended periods. As a result, she was medically released from military duty and later pursued a career in real estate.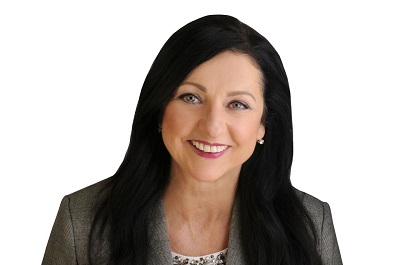 Veronica entered the Working Together program while employed as a realtor. Although she enjoyed some aspects of the real estate business, there were others that were not meeting her personal and professional needs. Veronica came to Working Together looking for support with finding a career that would provide her and her family with a stable work schedule and income.
Veronica met with an Assistive Technology Specialist through Neil Squire Solutions. Their assessment provided recommendations that could be implemented both in the Working Together program and in the workplace. Veronica was assigned a height-adjustable workstation that allowed her to alternate between sitting and standing positions. She also used a foot rest to alleviate pressure on her lower back when seated and an ergonomic chair for lumbar support.
Veronica continued working as a realtor while attending Working Together and going through the career development process. Many opportunities were available to her due to her diverse experiences. She required support with evaluating her options and deciding on a career that would meet her physical needs, while also being in line with her interests and transferrable skills.
Through ongoing support from Working Together staff and other participants, Veronica decided to pursue a position as a Property Assessor with a large not-for-profit assessment corporation. She initially met with a manager for an informational interview and was later offered a position at a satellite office close to her rural home. About the Working Together program, Veronica says, "I really very much appreciate all that you [Case Manager] and your team at Neil Squire did to help me get here. You all do amazing work and Amanda's [Job Developer] coaching was exactly spot on to how my interviews took place."
Veronica now spends her time in the field assessing properties, in the office and working from home. She has a steady work schedule and a stable income to provide for her family. "It's really great to have a regular paycheck for work done," she says. "This was a really good change and probably at the right time."
(new window)

The Working Together with Employers and Enhancing Employability
program is funded by the Government of Canada's
Opportunities Fund for Persons with Disabilities